DEFINITION
The body lift is an operation intended to tighten the skin in the lower part of the body. Resulting in a scar at the waist. This operation is also called circular lipectomy.
AIMS :
The body lift therefore acts effectively:
at the front side, on the belly, pubis and upper thighs
at the back, on the buttocks
laterally, on the hips and the tighs
INSTRUCTIONS :
Great weight loss: is of course the most common cause occurring after diet, gastric band or bypass.
Obesity: the lower part of the body, known as gynoid fat, usually resists to diets
Generalized obesity: in this case the body lift can also be considered as a fat reduction surgery.
Age and loss of the skin elasticity in post-menopausal women.
Following a liposuccion which may leave a cutaneous excess.
BEFORE THE SURGERY :
It makes sense to perform the operation only when the weight has been stable for several months
The psychological side. A rapid and dramatic change in body shape can have a strong psychological impact. The surgeon must therefore be sure that there is no fragility at this level.
Good physical condition and lack of deficiency
The patient will meet the doctor-anesthetist in consultation long enough before the procedure in so as to have time to prepare the surgery and ask for complete preoperative assessment.
Smoking cessation is recommended
TYPE OF ANESTHESIA and HOSPITAL STAY DURATION
Type of anesthesia : general anaesthesia is required.
Hospital stay : The duration of hospital stay is usually 4 to 6 days
THE PROCEDURE :
There are some basic common techniques :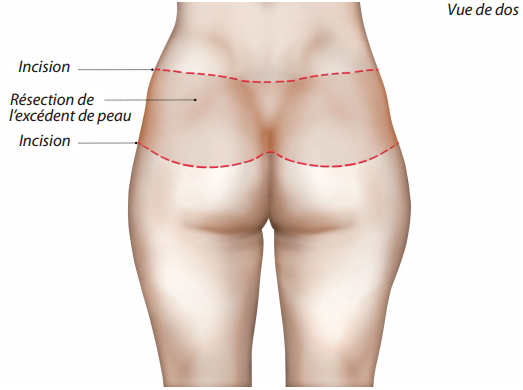 Preoperative markings : Essential to proper positioning and symmetry of the scar
Positioning : the operation consists of 2 steps; It begins in the supine position and ends in the dorsal position
Liposuccion : the procedure usually starts with a liposuccion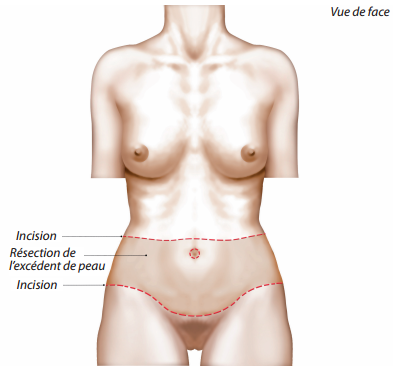 The Dorsal step : The excess of skin is then removed at the bottom of the back, over the buttocks and laterally to tighten the outer surface of the thighs
The supine step : it is the same as a classical abdominoplasty
AFTER THE OPERATION: POSTOPERATIVE CARE AND FOLLOW-UP
Recovery takes quite a long time. Swelling and bruises appear quickly and can be quite intense. The patient also feels fatigue and pain.
At the end of surgery, a compressive dressing is required for one month to reduce the swelling (edema).
THE RESULT :
There is an immediate visible result because skin tightening is always eye-catching. Starting from the 3rd week, swelling starts to disappear and the result is more attractive.
As for the scar, it should be known that, even if it generally fades over time, it can not completely disappear. In this respect, it should not be forgotten that if the surgeon performs the sutures, the scar is the result of the patient.
Beyond the aesthetic improvement that is often appreciable, the body lift generally brings to the patient a clear functional improvement.